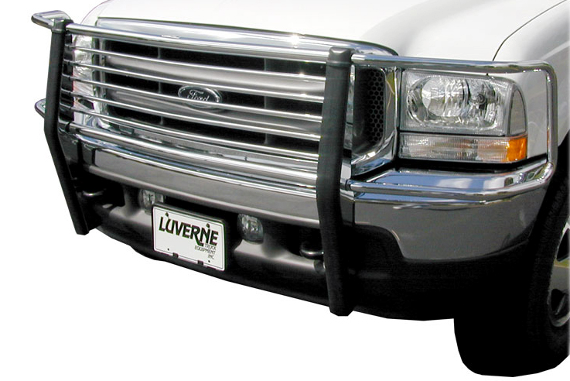 The LUVERNE wraparound tubular grille guard offers a classic look and strong front-end protection for older style trucks and SUVs. It features a contouring ring assembly, 1 1/4" tubing and frame-mounted uprights for reliable strength. It also has rubber extrusions over the uprights for added protection, and it features a chrome-plated finish for a bright, long-lasting accent.
Classic look, modern strength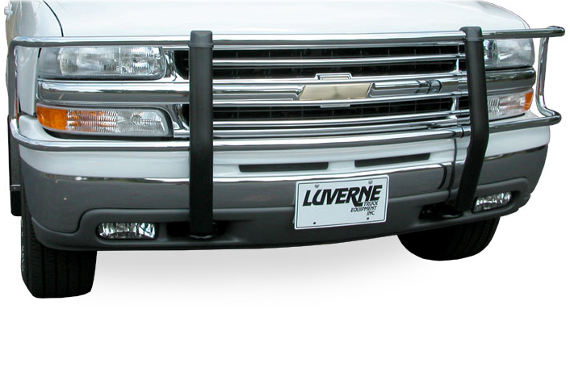 The LUVERNE wraparound grille guard is designed to have the tried-and-true look of a classic grille guard with the front-end strength of modern truck accessories. It is ideal for older styles of pickup trucks and SUVs from the 80s and 90s.
It is built from high-strength steel and covered in a chrome-plated finish for a bright shine. The frame-mounted uprights provide excellent rigidity, while the rubber extrusions along the uprights help protect the finish long-term.
The wraparound grille guard also features a series of center horizontal tubes to protect your vehicle's grille, and it has a 1 1/4" tubular ring assembly to contour to the headlights.
Strong American construction
To ensure only the best quality from design to finish, the LUVERNE wraparound tubular grille guard is made by American hands on American soil. This gives us direct control over the manufacturing process and guarantees the same quality we've been producing since 1963.